Atlantic Canada Learning Summit 2022
Sommet de l'apprentissage au Canada Atlantique 2022
القمة التعليمية في كندا الأطلسية 2022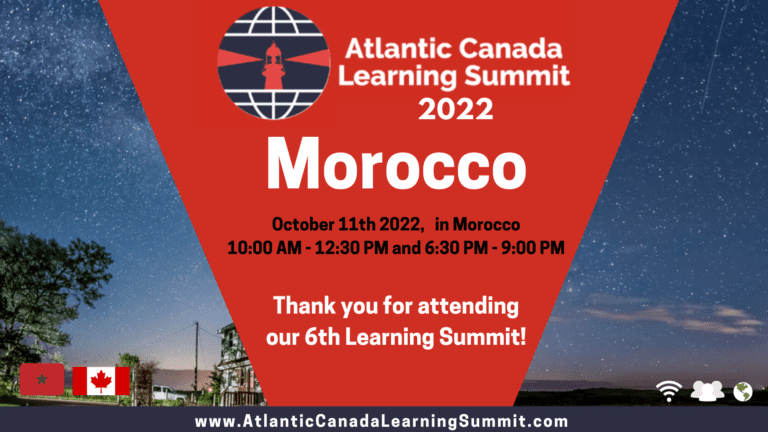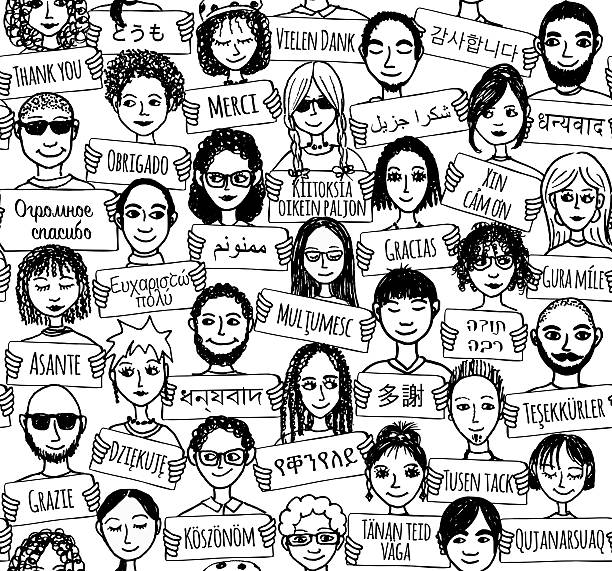 Merci à tous ceux qui ont assisté à l'ACLS Maroc hier ! Les deux séances étaient absolument incroyables. C'était merveilleux de rencontrer et de dialoguer avec autant d'étudiants, d'agents et de demandeurs d'emploi.
A bientôt,
L'équipe ACLS
Thank you to everyone who attended ACLS Morocco! Both sessions were absolutely incredible. It was wonderful to meet and engage with so many students, agents and jobseekers.
Speak soon,
The ACLS Team
L'inscription est fermée / Registration is closed
ACLS Morocco 2022 – What our Attendees Say!
Thanks to the ACLS team for organizing this Summit, I had a wonderful time and I appreciate the opportunity to attend this Summit and learn from your experience.
Special thanks to Michelle and Hakim, for sharing your advice with us and taking time to answer all our questions. I am truly excited about the possibility of moving to Atlantic Canada and hope to do so in the near future.
– Younes MOUADDIB, Multimedia Developer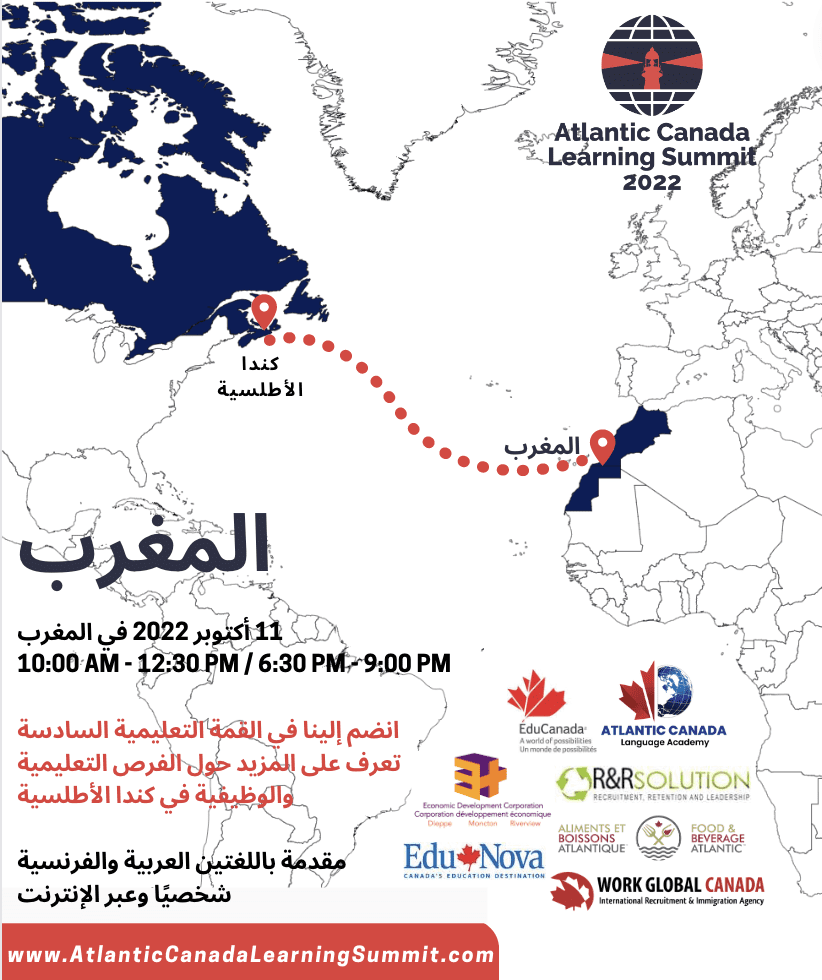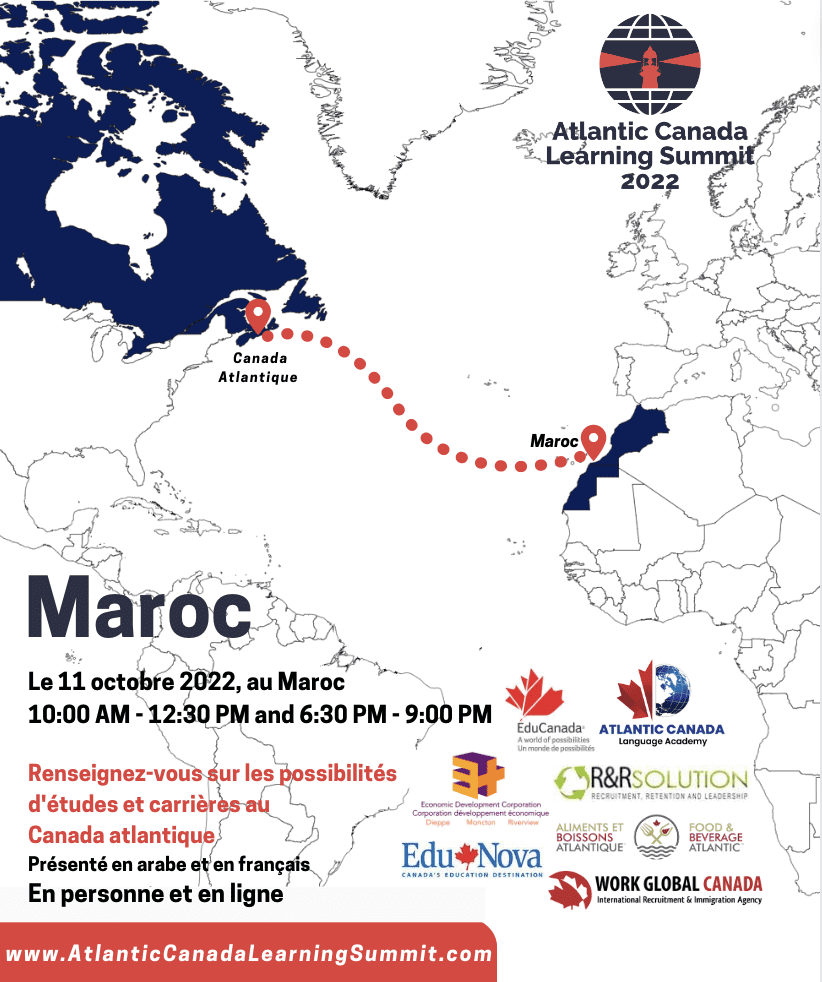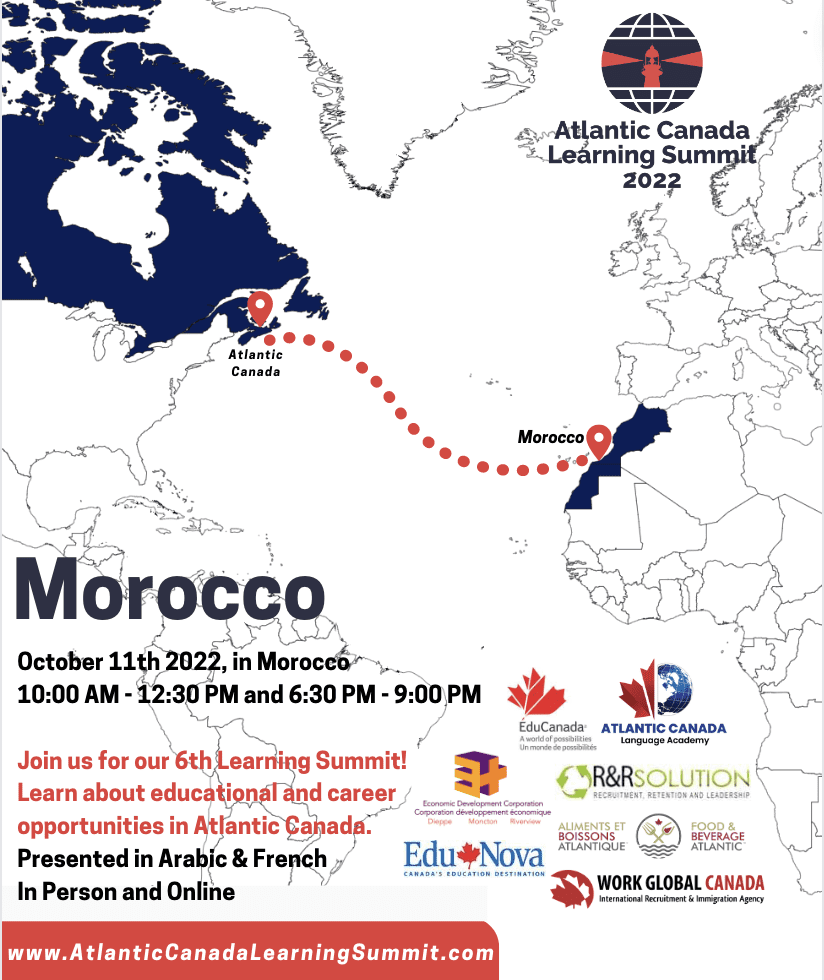 Register Now ◘ S'inscrire maintenant ◘ سجل الان

L'inscription est fermée / Registration is closed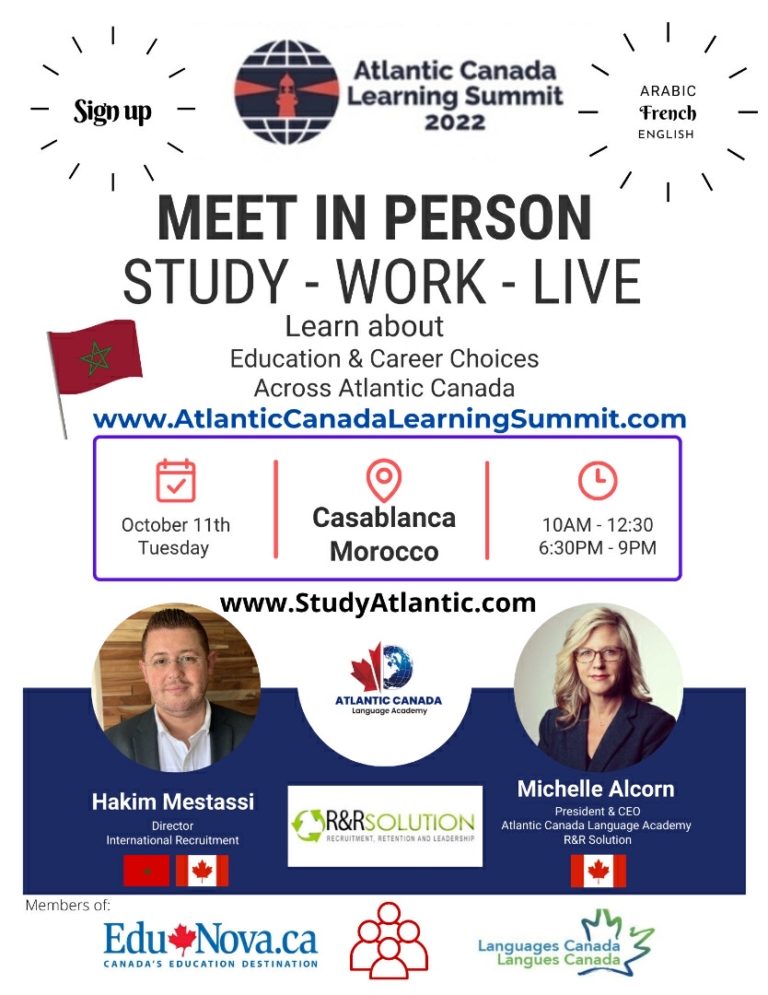 October 11th, 2022 in Morocco
Le 11 Octobre 2022, au Maroc
11 أكتوبر 2022 في المغرب
10 am – 12:30 pm & 6:30 – 9 pm
DAVE CARROLL
Experience what it is like to Study, Work and Live in Atlantic Canada
Our 2022 Atlantic Canada Learning Summits were a great success, ending on a high note in Morocco on 11th October! We are taking the experiences of studying in Atlantic Canada on the road with people, food and music.
It was hosted by Hakim Mestassi, Director International Recruitment & Michelle Alcorn, President & CEO and was free for Students, Parents and Educational Agents who wanted to learn about studying English and the Pathways to College, Universities and Careers in Atlantic Canada.
According to our survey, 80% of our attendees bring students to Atlantic Canadian schools.
Interested in sponsoring our 2023 events? The Atlantic Canada Learning Summit is an opportunity to showcase your school's unique education path and create individual connections with agents and students. Business and industry leaders can showcase the careers and life that await them here.
Get involved NOW; 2023 is going to be incredible!
ABOUT the Atlantic Canada Learning Summit
The Atlantic Canada Learning Summit started in 2020 to engage agents and future students and educate them on what the Canadian East Coast offered in terms of education, employment and lifestyle. Our objective was to present who we were directly in their market and their language.
In 2020 we were able to have our event in person with Jacqueline in Ho Chi Min City.
In 2021 we delivered the AC Learning Summit virtually using innovative ways to connect and engage participants.
In 2022 :
Febuary 22 we hosted a virtual summit in Colombia with Educational Agents.
Febuary 23 we hosted a virtual summit with students & parents in Colombia.
March 22 we were Live in Chile and on zoom for students and parent.
May 10 Webinar hosted in Vietnam on Zoom for students and parents.
October 11 we were live in Morocco for students, parents, and educational agents.
✓ Connecting with 35 engaged Agents seeking to connect with Atlantic Canada
✓ Connecting future students directly with people from Atlantic Canada.
✓ Demonstrate our welcoming nature, great people, food and life experiences.
✓ Welcome to class in Atlantic Canada
Join us for our 6th learning summit ◘ Rejoignez-nous pour notre 6eme sommet de l'apprentissage ◘ انضم إلينا في القمة التعليمية السادسة
Atlantic Canada Learning Summit 2022
Sommet de l'apprentissage au Canada Atlantique 2022
القمة التعليمية في كندا الأطلسية 2022
Living in Atlantic Canada