Featured Atlantic Canada Learning Summit Partner

LOCATION
Wolfville, Nova Scotia
ADDITIONAL INFO
Average Class Size = 28
Over four million dollars in scholarships
200 Flexible Degree Options
80% of Programs are Co-op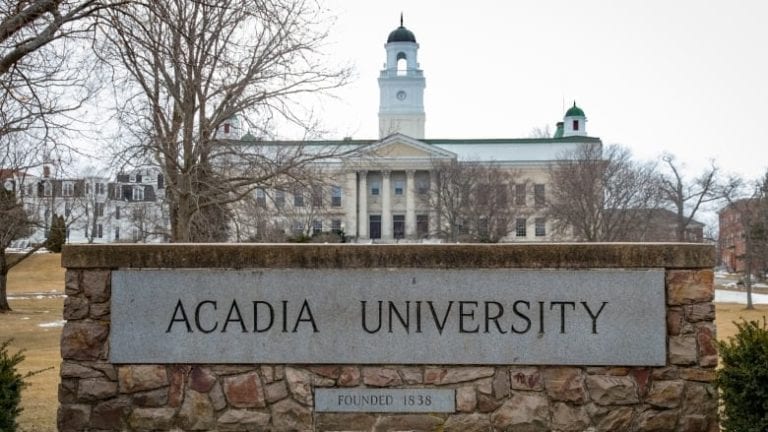 CAMPUS LIFE
3,628 Full-time (undergraduates)
176 Full-time (graduates)
339 Part-time (undergraduates)
359 Part-time (graduates)
NOTED SPECIALTIES
Liberal Arts, Agri-Food and Beverages, Computers, Varsity Sports, Physiotherapy, Pharmacy.
Acadia University was ranked the #2 University in Canada (for Undergraduate Programs) by McLean's magazine in 2014. The university offers more than 200 degree combinations as well as 2,864 courses spread throughout the faculties of Arts, Pure & Applied Science, and Professional Studies. At Acadia, the faculty to student ratio is 1:15, which lends itself to small class sizes with their countless award-winning professors.
Acadia has a large international student community, with over 50 countries represented throughout their student body. Professors use a hands-on approach which, combined with a technology rich environment and curriculum, gives students a competitive advantage. Students get the best of both worlds in that they are provided with top-level classrooms, labs, and field facilities that are characteristic of a much larger university, while enjoying the comfort of a smaller, quaint university town that is rich with culture and beautiful scenery. The community of Wolfville, Nova Scotia is known for its perfect balance of urban and rural living, giving students the opportunity to experience Canadian living in a better-rounded environment.
To learn more about Acadia University, please visit their website at http://www2.acadiau.ca
Find out more about Acadia and other Pathway Schools by registering today for the Atlantic Canada Learning Summit!
Atlantic Canada Life – Experience it here.